Santario Washington
Prairie State College A.A.S. Nursing 2017.
Governors State University B.S. Nursing 2020
Despite a difficult childhood, Santario Washington loved school and was willing to do whatever it took to graduate high school on time and attend college. After failing her classes her first semester at Prairie State College, she enrolled in the CRCP where she received the support and the finances she needed to pursue a nursing degree. Despite riding the bus at night to get to work and the challenges of a nursing curriculum, Santario turned her grades around, earning a 4.0 GPA her first semester in the CRCP. She says "the CRCP changed my life literally. I was able to pay my rent and the support from CRCP staff helped keep me on track".
After earning her associates at PSC, Santario received a full scholarship to Governors State University and graduated Magna Cum Laude with a 3.93 GPA, becoming the first in her family to graduate college. During her CRCP journey, she met fellow CRCP student Zharmarr Thompkins, now her husband. After graduating from GSU, Santario realized her first career goal, to work in the ICU. She is currently a traveling nurse, is completing pre-requisites and saving to pay for medical school within the next few years.
Santario says moving packages is physically hard, but the time management, ability to balance homework and school and her dedication have contributed to the work ethic she has now. She wants to be a role model for others who have a difficult journey and says her little sister is proud of her.
Thonequea Easley
Governors State University B.S. Sociology/Psychology 2014.
M.S. Counseling 2019.
Thonequea joined the CRCP to earn her degree debt-free. While pursuing her bachelor's degree, she realized the CRCP was a tremendous opportunity to earn her masters as well. A shy person by nature, she credits her promotion to part-time supervisor with helping her find her voice and develop communication skills that are so essential in her career today.
For Thonequea "The CRCP was the motivation I needed to continue at UPS. The finances helped when I was struggling. Many of my friends had loans, but the CRCP financial benefits allowed me to keep my focus on my grades."
Knowing she wanted to work in an urban environment, Thonequea works as a counselor at Children's Home and Aid where she collaborates with several area organizations while working with high school and elementary students to help them navigate life challenges and develop life coping tools. What's next? Her Ph.D.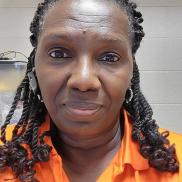 Stephania Burks
Moraine Valley A.A. Travel and Tourism 2011.
Governors State University B.S. Sociology 2015.
Stephania loves to travel and earning her associates in Travel and Tourism at Moraine Valley Community College opened the door to an industry job and the necessary experience to start her own travel business. Continuing her education through the CRCP at Governors State University was a bucket list item that she always wanted to achieve.
She currently works part-time at UPS in Maryland, while thriving entrepreneurially with both travel and t-shirt businesses. She encourages students to "Hang in there, come to work every day, and do your best to look for advancement while getting your degree paid for."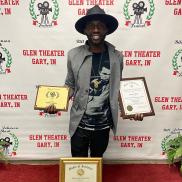 Aaron J. Davis
Governors State University B.F.A. 2016.
M.F.A. 2018.
Aaron J. Davis who was working in Louisiana when his mother Stephania Burks shared the opportunity with him. With a passion for writing and filmmaking, he relocated and enrolled in the fine arts program at Governors State University where he earned both his bachelors and Master of Fine Arts degrees. As a very busy CRCP student, he balanced family life and film school projects, while being promoted to part-time supervisor in the training department.
Now, his part-time UPS job allows Aaron to focus his efforts on his creative passions. He has received numerous local and international awards for a short film, a documentary and most recently a cartoon that will become a full-length production. As an award-winning filmmaker, you can find his work on Tubi TV and Amazon Prime.
Aaron fondly recalls his CRCP experience. "When I came here, I had dreams of being a filmmaker. When I graduated, I was an award-winning filmmaker. Without the program and UPS, I would still be shooting music videos."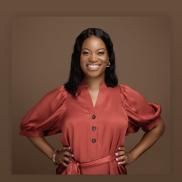 Valencia L. (Keys) Brennan
Chicago State University B.S.
Psychology 2015.
Valencia Keys was already a successful college student when she joined the CRCP. However, her financial aid was depleted and her part-time job as an elementary and high school tutor was not enough to pay college tuition. A professor suggested she consider the CRCP which turned out to be the perfect solution. Valencia says "the CRCP experience literally changed the trajectory of my life and without the program I would not have been able to graduate".
Valencia excelled as a UPS employee and was promoted to part-time training supervisor. She attributes her UPS work experience with building her work ethic and endurance. Her advice to CRCP participants is to "work hard, listen to your leaders and learn from them."
Valencia says her UPS experience led to her meeting her husband. Together they have two young children. With family being priority number one, Valencia is using her psychology degree while working part-time as an office assistant for a local suburban school district.
Is the CRCP right for you?